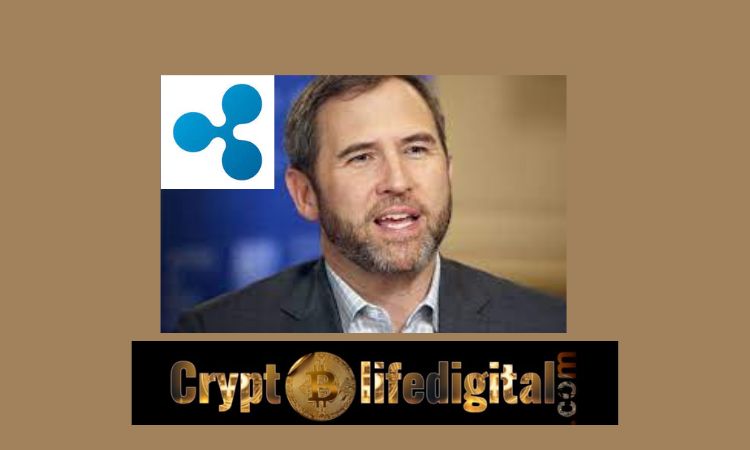 Brad Garlinghouse, the Ripple CEO recently promised that over half of the transaction volume possessed by the community through its various payment rails now goes through XRP.
Brad Garlinghouse noted in the recent Fireside chat on CNBC's Tech Transformers at Davos. For Context, Garlinghouse made this claim as he explained that the blockchain-focused payments company continued to grow abroad despite legal troubles at home. 
He further pointed out that over 95% of the firm's customers signed in the aftermath of the United State Securities and Exchange Commission lawsuit are outside the United State.
Read Also: Neblio To Build A LUNC Staking Functionality Via Mobile Wallet.
More Than Transaction Volume Now Goes Through XRP
Chief Brad stated; "…now well over 95 per cent of the customers we've signed in the last two years are non-US, our activity is growing more and more outside the United States and it's because you have this confusion in the United States. We're now processing billions of dollars of transactions every quarter."
Consequently, Garlinghouse says Ripple now processes billions of dollars every quarter via its cross-border payment rails. Furthermore, according to the Ripple chief, over half of that goes through XRP via its On-Demand Liquidity (ODL) service. This product uses XRP as a bridge currency for near-instant cross-border settlements. The Ripple chief says this continues to grow as it opens more payment channels and facilitates exchanges across more currency pairs.
"… we're now processing billions of dollars of transactions every quarter and … well over half of our total transaction volume because we do have a fiat and XRP enabled product called On Demand liquidity, over half of all of our transactions go through XRP, …We're continuing to sign more contracts, more customers, we are growing because we open more corridors more currency Pairs and so there's kind of a nice series of building,"
Read Also: Shiba Inu Spikes Over 20% Following The Upbit Listing
More also, it is worth noting that Ripple's On-Demand Liquidity last year shoot to almost 40 payout markets, which the company placed at 90% of the foreign exchange markets.
Currently, the service is encroaching on Asia, Africa, Latin America, and Israel. Additionally, users of RippleNet, its fiat-based service, are switching to the XRP-based solution. Notably, the firm is also looking to expand to Europe.
The battle Between Ripple And SEC Is Over 2 years
Surprisingly, the back-to-back breakthrough came after the allegation of the SEC two years ago, which said that XRP is a security and pushed for the major exchange to delist XRP from their platform out of fear of litigation for trading the unregistered token.
the battle between the lead blockchain and the United State Security is still on and the Ripple chief has reaffirmed his belief that Ripple will get a favourable decision from the judge in a separate CNBC interview get a favourable decision in a separate CNBC interview.
Brad Garlinghouse noted; "I feel perfect about where we are relative to the law and the facts,"
---
Follow us on Twitter, Facebook, Telegram, and Google News