In a recent report by data provider Messari, the Cardano network is making waves with a stellar Q3 performance across various metrics. The standout achievement is the substantial growth in stablecoin adoption, marking a 16% increase in the past quarter and a staggering 461% rise since the beginning of the year.
Cardano TVL Surge
This remarkable uptick in Cardano's stablecoin ecosystem is largely attributed to key players like iUSD and DJED, both of which experienced significant increases in user adoption within the quarter. These stablecoins, launched in November 2022 and February 2023, played a pivotal role in propelling Cardano's stablecoin market share from just over $50 million to a remarkable $200 million by the end of Q3.
Furthermore, Cardano benefited from the blockchain bridge protocol Wanchain, which facilitated access to mainstream stablecoins such as Tether (USDT) and Circle USD (USDC). This protocol also enabled users to engage with Wrapped Bitcoin (WBTC) for an enhanced DeFi experience.
Cardano's total value locked (TVL) in DeFi protocols remained nearly steady throughout the third quarter, with a slight dip from $150.7 million to $150.6 million. However, this stability was enough to bolster Cardano's position, elevating it to the 15th largest blockchain by TVL, a significant climb from its 34th position at the start of the year. The year-to-date chart reveals an impressive 198% increase in TVL, contributing to this remarkable ascent in the rankings.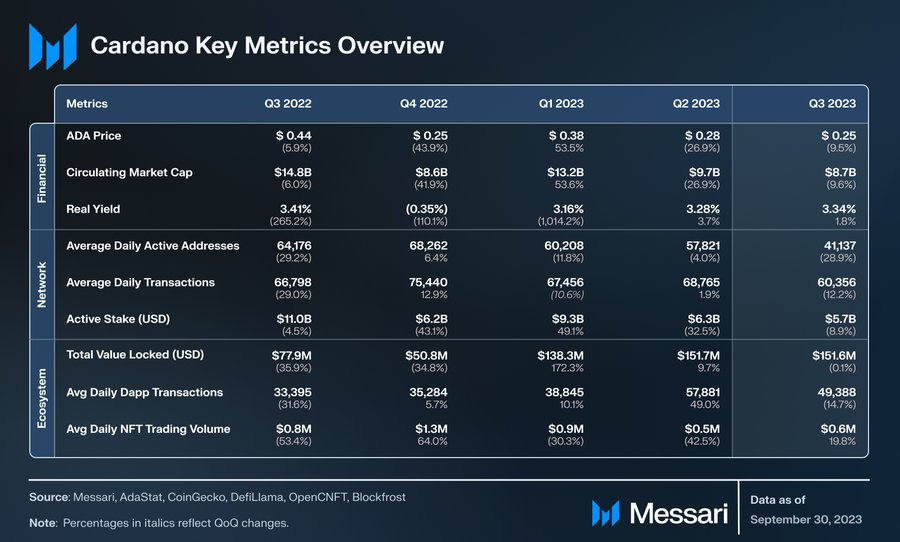 Cardano also witnessed a modest increase in NFT trading volume during Q3, with NFT trading activity across its marketplaces growing by 10%, reaching $0.6 million from $0.5 million.
Cardano's commitment to fostering its ecosystem
In tandem with these achievements, Cardano's commitment to fostering its ecosystem is evident. The number of projects building on Cardano and receiving funding from the project treasury saw notable growth during the same quarter. Through its Project Catalyst Fund10, Cardano allocated 50 million ADA (approximately $14.5 million) to fund 192 projects, strengthening its DeFi ecosystem and positioning itself as a formidable competitor among major blockchains.
Cardano's Q3 performance underscores its capacity for growth and innovation in the blockchain space, particularly in the realms of stablecoins, TVL, NFTs, and project funding. As it continues to make substantial strides, Cardano appears poised to maintain its upward trajectory in the crypto and blockchain landscape.
---