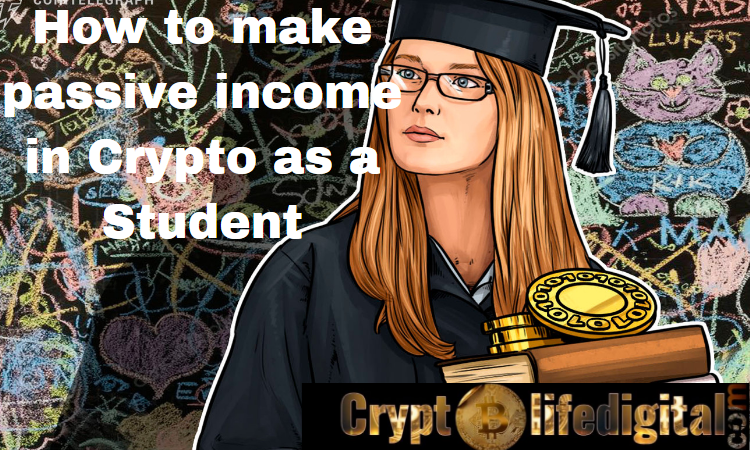 A student in a technology-driven age like ours is expected to know what cryptocurrency is and how to make passive income in cryptocurrency. The world today is fashioned with lots of crypto activities, it is a time like no other time in history as people make money through technology-driven blockchain activities, which gives birth to digital assets, one of them being a cryptocurrency.
The launch of bitcoin in 2009 is what brings many people to know what blockchain technology is, and how to operate with it, Bitcoin is the first digital currency, different digital currency is now used in the digital space, but it was bitcoin that introduced everyone to the benefits of using digital currency.
Read Also: How Is Crypto Different From Coin And Token?
A student in an institution does not need to depend on anyone for income as long as you know how the internet works and how to read text. this article will help you with some basic tips on how to earn money in the world of cryptocurrency.
Below are some of the things to engage in which will boost a student's knowledge of how to make passive income in crypto:
Read Also: Three Best Ways to Earn Passive Income with Crypto in 2022.
Look for Related Courses
The first thing to do is to search the internet for courses and material that is related to blockchain, make sure you read in detail the information in the course, and understand what it is talking about.
Nowadays there is no excuse for one not to find the topic they are looking for, beginners in cryptocurrency need to first search for guides on any topic of interest, the first thing to do is not to read difficult materials on cryptocurrency, but to read beginners guides, some of the professional courses online are rich enough to give you the necessary knowledge you need to start benefitting from cryptocurrency, it will also help to give you a guideway to starting a carrier in the blockchain.
One of the factors that always stop students from following up with online courses is their busy Academic schedule, many times they even spend longer time writing essays or completing assignments, but that should not be an excuse if you really want to benefit from blockchain activities, because there are a lot of online platforms today that can help student with assignments, the student can also get their essay re-written with these platforms.
Read Also: Shiba-Inu-themed blockchain-based restaurant, Welly Is Now The Most Eaten Fast-food On The UBER EATS
Take a step to invest
After completing the courses online, the next thing to do is to take a step by choosing which blockchain activity you are engaging in. One of the Blockchain activities which is always recommended for beginners is investing, investing is the process of buying and selling or keeping Blockchain assets, because, it is believed that Crypto assets are said to be unstable in a short term, with amazing long-term potential.
Before investing, here are some things to look out for:
Only invest what you can spare.
Engage in research about the asset to invest in.
Ask questions on areas that you do not understand.
Develop a strategy that will help in the market.
Search for a stable asset to invest in.
Trading the Asset
Trading is recommended for people that understand how volatile the crypto market is. Before going into trading, you need to develop your technical and analytical skills and also build emotional resistance around your mind, this is because, the prices of an asset can suddenly change, which can affect the potential of your stored assets.
The first thing to do is to study what is going on in the market, this will help to moderate your decision on which asset to invest in, and also know the type of cryptocurrency to buy, to know which currency to trade, you are expected to do a research on the current cryptocurrencies that is profitable to trade in.
Trading requires an active mind with a critical thinking capacity, a beginner is advised not to start trading until he learned all the trading strategies and the current market value and uncertainties before venturing into it.
Read Also: SHIB Is Now In the Top 10 In terms Of Trading Volume Among The 100 Largest ETH Whales In The Last 24 Hours.
Conclusion
One of the digital assets that have taken over the world of technology is cryptocurrency, out of every fifty people ten must have heard of cryptocurrency, and out of the ten, two are digital asset holders. It may be a little difficult to understand the concept of cryptocurrency at first, but you will enjoy the benefit in it if you are consistent in the first tips for understanding Cryptocurrency and Blockchain activities.
---
Follow us on Twitter, Facebook, Telegram, and Google News