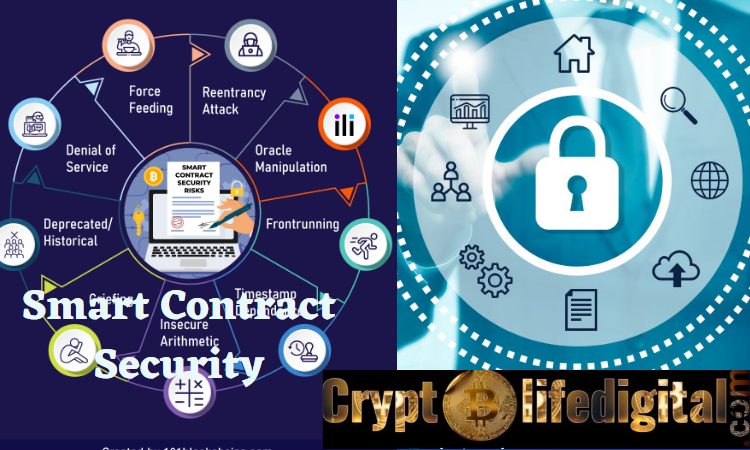 The 2023 index of smart contract security is important for everyone in the blockchain world, this is because smart contract differentiates Blockchain technology from any other decentralized platform in the aspect of financial activities, therefore any information that suggests ways how to protect the credibility of smart contract should be given absolute consideration. The massive growth in the blockchain space continues to attract crimes and hackers that make the integrity of smart contract activity doubtful. This article will highlight some measures to take that will help in securing smart contracts and by extension blockchain technology in 2023.
Some of the indexes in 2023 are listed below.
Definition of Smart Contract
A smart Contract is a medium of establishing an agreement between traders of an asset. The uniqueness of a Smart Contract is that the terms of trading are performed through code.
Read Also: Cardano Leads Grayscale Smart Contract Platform Ex-Ethereum (GSCPxE) Fund.
2023 Security Index List
Even with the secured nature of blockchain, hackers and criminal activities in the blockchain continue to increase. However, the increase in Cybercrime has caused distrust and uncertainty in the blockchain space.
All the transaction performed in blockchain technology is anonymous, which is why hackers and internet fraudsters are comfortable performing illegal activities. On that note, Security measures are important at all times in 2023.
Below are some of the security measures to take note of when using a smart contract.
Decrease Complication
Errors can be determined by the level of complexity in the code used in the smart contract. Making your code simple can curtail errors and make the smart contract trustworthy.
Limit Accessibility
 A good number of activities in the smart contract are considered to be public which is why some external accounts can also use them. This accessibility is not subject to an area, it can be accessed from anywhere because it is public. Scammers can easily access smart contract activities when is public. The best solution to these is to minimize the smart contract accessibility, these will checkmate any cybercriminal attempt.
Hold on to a good practice
Read Also: North Korean Hackers Attempt Hacking Israel-based Crypto Company.
One of the most important things to do is to embrace best and leading practices. It is not every contract owner that knows the leading best practices in the industry. However, the developers should at all-time be aware of the practices that are leading in the industry, this will help in making an informed decision.
Leading Practices like making sure that the code gets compiled without errors, documenting the contract code in detail, and utilizing a safe development environment.
Re-check the code
Every step in technology needs verification. It is not enough to be certain a code will work and perform as the intended, assumption is not the right way to ensure the security of an asset in the blockchain. The best thing to do is to run a test to jump errors and difficulty that the code could pose.
Arrange for a recovery plan
There is no hundred percent certainty in blockchain activity. It is possible to have all the strategies mentioned above in place and still suffer attacks from fraudsters. Prepare a plan that can help you to recover in the event of unforeseen circumstances.
Emergency pause
In the case of errors happening through emergency pause, the code can be patched. An emergency pause is needed to patch the code while it is still active.
Read Also: An A-Z Guide to the "Ethereum Killer" Called Avalanche
Tracking Event
Event tracking is like a monitor in a smart contract to an extent. It helps to quickly react to security breaches. One of the retrieval strategies is to have the event monitoring practice in place.
Updating the contract
Since it is impossible to edit blockchain smart contract, to identify shortcomings, the best way is to use a pattern of updating it.
Guarding against weakness
There are so many frequent attacks on blockchain. Fraudsters take advantage of this weakness to attack blockchain smart contracts, you need to learn about this loophole and try to guard against it.
Some of the weaknesses are:
DOS attacks
Gas limit and loop
Insecure Arithmetic attack
Implicit visibility level
Conclusion
In every sector that involves trading, both in the physical and digital world, upgrading is important. Changing strategy is the best way to make a profit and be ahead of others. Hackers continuously improve their skills, preparing to attack any vulnerable sites, the best thing to do is to be one step ahead of hackers, this is why learning steps and strategies on how to keep your assets safe in 2023 is important.
---
Follow us on Twitter, Facebook, Telegram, and Google News