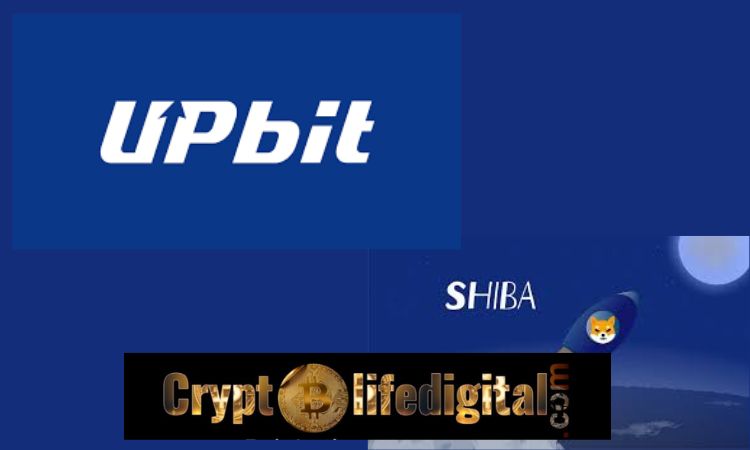 Following the listing of Shiba Inu by a popular South Korean exchange, Upbit the asset soared over 20% on Wednesday, fully recovering from the FTX-induced sell-off.
As stated in the blog post by UpBit, South Koreans can now buy Shiba Inu directly using the Korean Won. Upbit also listed the Galxe (GAL) coin for the BTC market.
Read Also: LUNC Burn Rate Spikes 2,107% As Over 5M LUNC Is Burned
Upbit Lists Shiba Inu
According to Upbit, SHIB Trading opens on 2023-01-18 at 16:00 KST, while the exchange will only support Shib ERC-20 for deposits.
At the writer's time, Shiba Inu was trading at around $0.000012, up 19.06% in the past 24 hours according to data from Coinmarketcap.
The update came following the growing calls of the "Shib-army" for more crypto exchanges to list the token. In April 2022, SHIB likewise jumped over 20% after being listed by US-based crypto exchange Robinhood. The listing came months after its supporters called for the move, with a petition from Change.org to get SHIB on Robinhood receiving nearly 560,000 signatures.
According to the record, since January 1, 2022, the 13th most popular token by market cap has spiked over 50% and over 40% in the past week alone. In 2021, the token surged more than 40,000,000% but has lost about 85% year-to-date.
Read Also: Shiba Inu's Partner, Bugatti Group, Announces A Major Giveaway In Conjunction With Shiba Inu Team
As previously reported by cryptolifedigital, there is every possibility that the invasion of the Beta Shibarium has a positive effect on the price of Shiba Inu.
Shiba Inu Likely Face Resistance
According to the price graph on Wednesday, SHIB is likely to face resistance at $0.000013, but could later slice through as more buyers come in. As we can see in the chart below, the price is attempting to break a descending trendline.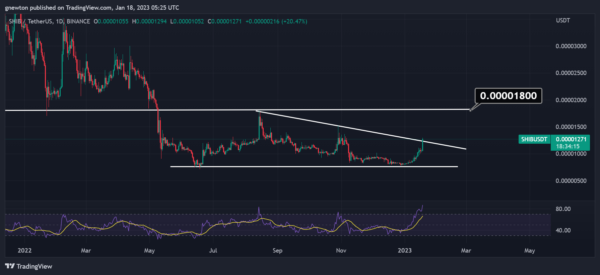 A little movement above the present state may bring buying pressure into the Shiba Inu and consequently brings the price towards $0.000015 before pushing further to  $0.000018. 
---
Follow us on Twitter, Facebook, Telegram, and Google News