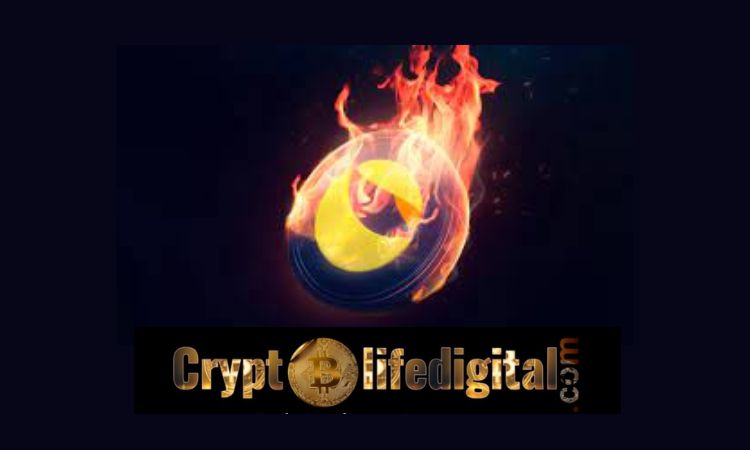 The LUNC burn rate has been up following the massive burns conducted on Tuesday. The report shared yesterday revealed that the staggering 5,096,362 (over 5M) tokens were incinerated on Tuesday, marking a 2,107% increase in total burns from the previous day's amount. The biggest single burn observed came from the independent Terra Classic validator LUNC DAO.
As stated by the Terra Finder, the transaction took place on the 17th of January 17, 2023, at exactly 7:03 (UTC).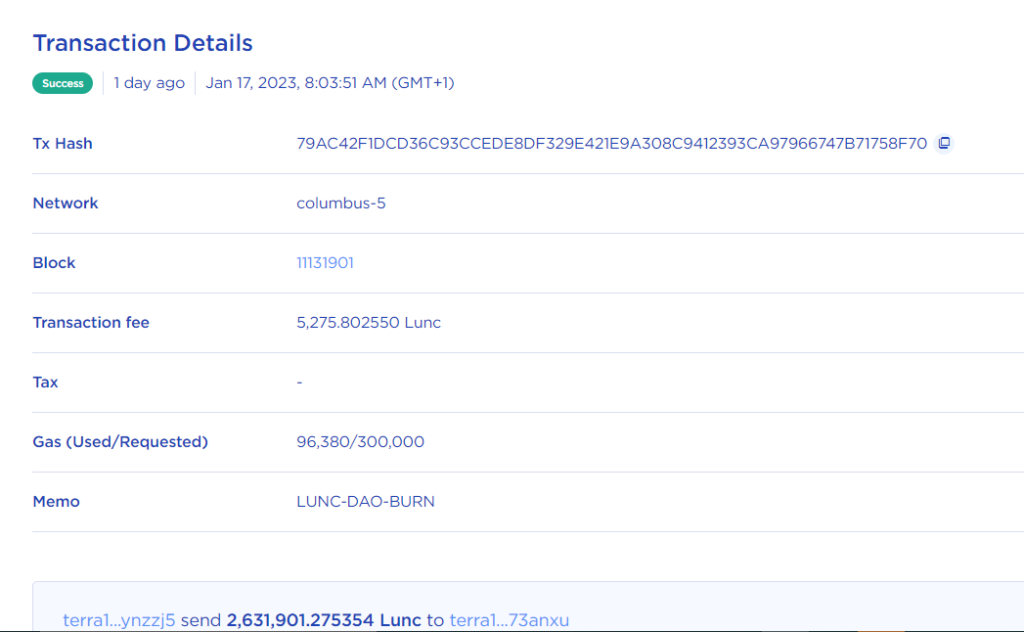 Read Also: Shiba Inu's Partner, Bugatti Group, Announces A Major Giveaway In Conjunction With Shiba Inu Team
LUNC DAO Takes The Lead In The LUNC Burn, As Over 5M Is Burned
At the moment, there is virtually no statement from the LUNC DAO as regards the burning, although the memo which reads LUNC-DAO-BURN confirms that it came from the validator.
The latest transaction brings LUNC DAO's cumulative burn to 434,178,868 (434.1M) LUNC at the time of reporting, as it retains its position as the fifth most giant burner, towering over other validators such as Allnodes (344.3M), Happy Catty Crypto (34M) and Luna Station 88 (30.2M).
It is worth noting that while the community sustain a persistent burn initiative, a validator in the crypto space has been burning LUNC in its millions. For instance, the prominent crypto influential Classy noted that he had burned 100% of the commission from his validator in the previous month.
Notably, so far the total LUNC burns represent only 0.54% of the asset's total supply has been burned, amounting to 37.6B tokens. This rate was 0.53% last month and this makes the community in a dilemma as maybe the burn initiative would be able to revive the LUNC. Considering the current burn rate of 269M per day, only 7.5% of the supply will be incinerated in 5 years.
Read Also: TerraCVita's Project, Terraport Promises To Burn LUNC. See How
While the idea of the merging of the LUNC and LUNA was opposed by many, a prominent developer in the LUNC network, Zaradar, the one that authored a proposal that sorted an alternative way of re-peg USTC
other than re-minting.
He said that there is a way both assets can co-exist, presenting several means through which they can complement each other. According to him, if his methods are adopted, LUNC could soar above $1 in twenty years.
---
Follow us on Twitter, Facebook, Telegram, and Google News