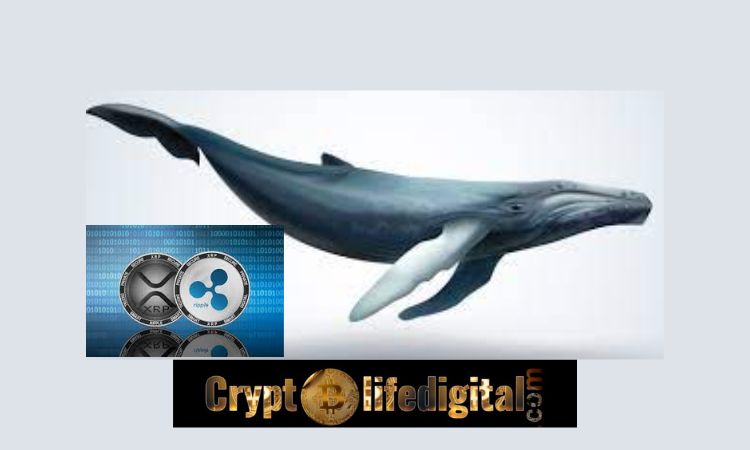 The recent development captured an update on the massive transactions of some whales as a massive 150 million XRP tokens was withdrawn from Binance.
The massive withdrawal is an indication that crypto investors are still in the business of shuffling vast amounts of the XRP even as the year draws to an end.
Whales Withdraw Massive XRP Tokens
Precisely, the report shows that the transaction took place at precisely 14:23 (UTC). Whale Alert noted that the 150M XRP tokens were worth around $52.1M.
Read Also: Terra Classic Currently Votes On The Proposal To Repeal The Reminting Of 50% LUNC Burns Allocated To The Community Pool. How Good Is This?
Data from XRP-centered explorer Bithomp shows that the user currently holds 248M XRP.
Following the first massive accumulation, another whale came on board to transfer a lump sum of 45M XRP worth $15.59M to Bitstamp exchange.
Per the analysis, what could the point of interest of whales as they accumulate massively in this period suggest that rising interest in Ripple-affiliated tokens among high-net-worth crypto investors? It bears mentioning that these huge XRP transfers are made for investment purposes or concerning Ripple's On-Demand Liquidity (ODL) service.
Read Also: Binance Concludes The Second LUNC Airdrops, Coinbase's Buying Of Over $200 Million Awaits Confirmation
According to Ripple, the demand for its On Demand Liquidity solution spiked to the extent that it had to buy XRP from secondary markets to meet these massive growing demands for the XRP tokens.
The leading blockchain company noted that " it has continued to engage in sales solely related to ODL, and these volumes have ramped up substantially as Ripple's ODL business expanded globally,"
It is worth noting that crypto whales are taking an early position in filling their pocket with as much as possible XRP as they are optimistic for victory as the lawsuit between Ripple and United States draws to an end.
Recall that attorney John E. Deaton speculated that he expects the judge to rule in favour of Ripple given the company's defence throughout the lawsuit. 
---
Follow us on Twitter, Facebook, Telegram, and Google News