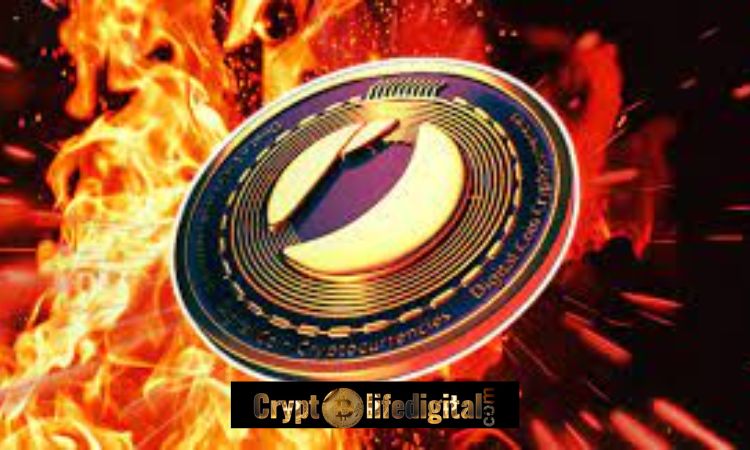 Almost 20.0 million Terra classic (LUNC) tokens have been incinerated over the past 24 hours amid a rally resulting in a 6% price surge and massive increase in burn rate, making LUNC the highest-gaining asset in the past day among the top 100 mainstream tokens.
The analysis done by the Burn and Build validator node under the control of an anonymous crypto influencer Crypto King revealed that over 95% of the total LUNC burns within the past 24 hours, burning up to 20M tokens in a single transaction.
Read Also: Shiba Inu To Incorporate Its Community Members In Its Upcoming Video Series
Terra Classic Burn Rate Spikes
He added that the massive burn is his team's way of saying thanks to the community for delegating to them.
"Our LUNC burn and build node just burned 20 MILLION Terra Luna Classic," he remarked in a tweet Friday. The Terra influencer also shared a Terra Finder link to the burn transaction and urged others to stake with his validator, which went live in late October. The node has a cumulative burn of 21M so far.
Following the massive burns, a tweet shared by Crypto King revealed that he has it in mind to burn 100% of all the rewards he will earn from his Burn and Build validator node until further notice. 
the growing prevalent pattern occurring amid independent Terra validators is engaging in LUNC burns to make some positive impact in the LUNC burns campaign and has since been attracting some delegations from community members. Notably, some of the validators are among the 10 biggest burners, including LUNC DAO and Allnodes.
Read Also: TerraCVita Releases Whitepaper To Show How Helpful They Can Be To LUNC
It is worth noting that while other assets battle with the down-trending in the market, LUNC has chosen to take a different road as it spikes 6.11%, making it the highest-gaining token amongst the top 100 assets within the timeframe. The momentum remains sustained, with the asset changing hands at $0.0001454 as of press time.
---
Follow us on Twitter, Facebook, Telegram, and Google News